February 16, 2006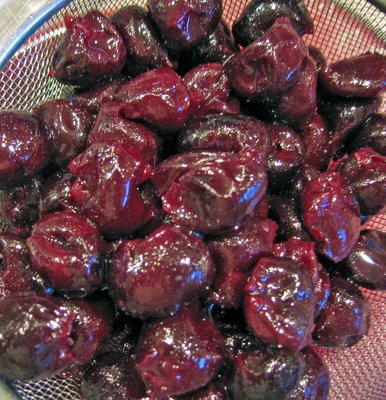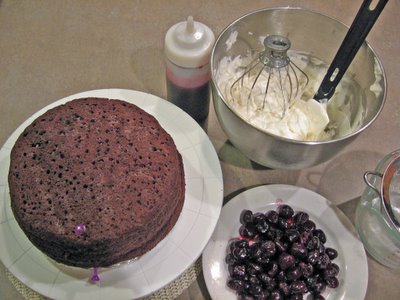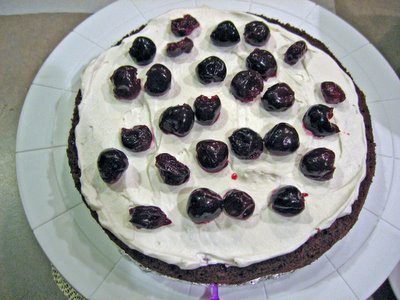 I know it looks like the site is turning into a cake decorating class, but I've had three birthdays in the last six weeks and I wanted to try my hand at cakes. All of you "Part Time Pastry Chefs" out there, cut me a little slack. The three cakes you see here, are my only serious attempts at the subject and I have a lot to learn. I must say that it has been fun so far and I'll let you learn from my mistakes.

I asked the "Part Time Housekeeper" what she wanted for her birthday and she said "Black Forest Cake". She suggested cherry pie filling from a can, but I thought I might be able to do a bit better with frozen cherries.

I made "Brandied Cherries" by making a sugar syrup and adding frozen cherries, orange juice, lemon zest, and brandy.

I stabilized the whipped cream with gelatin which worked well.

To apply the syrup to the cake, I drained the cherries and put the liquid into a squeeze bottle.

Some of the syrup went on to each layer of cake, then the whipped cream and the cherries.

When it was all together I brushed off the crumbs and smoothed the gaps with a spatula.

My first pass at a ganache fell short a bit, but I learned a lot. Next time I'll add some corn syrup to the mix to keep the glaze from turning cloudy and pay more attention to the consistency. It was not very smooth because it was a bit too thick.

The roses and leaves didn't turn out perfect, again because of consistency.
Posted by

Cord Rogers
at 7:53 PM
1 comment:


February 12, 2006
This is only my second serious attempt at a cake, so I'm by no means an expert. Here are some of the "tricks of the trade" I found useful.
Put a parchment circle in the bottom of each of the pans.


When cool, slice the layers in half with a large serrated knife and put paper between the now four layers.

Stack the layers together and wrap them in two layers in of foil.

Freeze the cake overnight. Brush the crumbs from the frozen cake with a pastry brush.


Use "Piping Gel" to stabilize the whipped cream.

When assembling the cake use a cardboard circle the same diameter of the cake.

Rewrap the assembled cake and freeze again if you have time.



The exterior is also stabilized whipped cream with bittersweet chocolate.
Line the display platter with strips of parchment (or wax) paper.
Set the cake in place and carefully remove the paper, leaving the plate perfectly clean.

Use a vegetable peeler to curl chocolate for a garnish.
Posted by

Cord Rogers
at 6:49 PM
No comments: